A tragic train accident happened in Amritsar on 19 October 2018 during Dusshera celebration in Amritsar, wherein at least 61 people lost their lives. The Amritsar-Jalandhar DMU train accident left 61 people dead and at least 143 injured after a passing train ploughed through hundreds of revelers who had gathered at the rail tracks at Joda Phatak to watch the burning of Ravan's effigy in a Dussehra event happening at Dhobi Ghat.
After this incident, recently on social media a claim that Amritsar-Jalandhar DMU train driver has committed suicide, was being shared by multiple people on various social networking sites.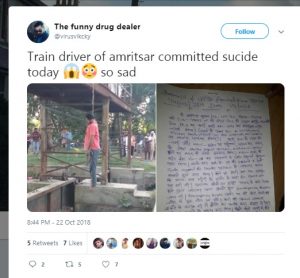 NARRATIVE ON SOCIAL MEDIA
People shared this claim sometimes with just picture of a man hanging on a bridge and sometimes with a picture, video, and a suicide note that was claimed to have been written by the driver.
Few examples are given below:
***WARNING : SOME OF THE CONTENT MIGHT BE DISTURBING FOR READERS***
Train driver of amritsar committed sucide today ?? so sad pic.twitter.com/yzNzE41jIe

— The funny drug dealer (@virusvikcky) October 23, 2018
Train driver of Amritsar committed sucide today ??
Extremely sad ? it wasn't his fault at all pic.twitter.com/qe1EAV2QQ4

— ทαмαsкαr ทαмαsτє (@NamaskarNamaste) October 22, 2018
#Amritsar #AmritsarTrainTragedy Driver Committed Suicide ? . pic.twitter.com/pxRCs7EZKt

— Param Rana (@ParamRana19) October 22, 2018
Amritsar train driver commits suicide pic.twitter.com/rIHQx5RKml

— Shomer (@Golem001) October 22, 2018
— Shomer (@Golem001) October 22, 2018
TV1 a Telugu YouTube News Channel, even supported this claim by posting the video on 22 Oct 2018 and it's headline: "Amritsar: Train driver committed suicide and leave his suicide notice before hanging to death – TV1"
Our readers can view the archived version of the same video here.
OUR FACT CHECK
Fact Crescendo team did a fact check on this issue. We did Google Reverse Image search and also researched various twitter handles who were commenting on this claim.
We found the following:
TRUE
Misleading images and videos claiming train drivers has committed suicide are doing round on social media & WhatsApp groups.
The driver of the DMU train has

NOT

committed suicide.
The handwritten note is actually a statement given by the driver to police and

NOT

a suicide note. Our readers can easily see the same: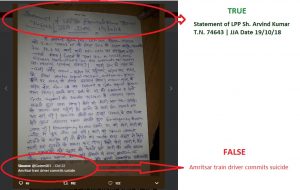 The Driver is in the custody of Punjab Railways currently, who are conducting an independent inquiry on the tragic incident.
The image & video of a man hanging being shared is of one Harpal Singh, owner of motorcycle with number# PB46X1058. He committed suicide allegedly on 18th October near Amritsar, Punjab. You can read about this incident in a local Punjabi newspaper here.
Punjabi Newspaper "Tarntaran Bani" translated brief:
Name of the suicide victim is Harpal Singh s/o Tarsem Singh resident of Bhikhi Wind, Khalra Amritsar, Punjab.
He committed suicide allegedly on 18th October and his family got to know about it on 19th October.
He was found hanging from iron pipes on the canal in Bohru, a place near his hometown.
Harpal Singh was mentally disturbed and had tried committing suicide previously also.
FALSE
X The driver of the DMU train has committed suicide.
X The video and image is of the driver after he hanged himself.
IN CONCLUSION
Fact Crescendo team tags this post as Misleading and Fake. These kinds of misleading posts or messages will be shared across by many people using WhatsApp and other social media applications again & again. But we as readers should be aware of the reality of these kinds of messages, as to what they really are – just a misleading narrative, a distortion of truth.
Fact Crescendo advises its readers to refrain from falling prey to unsubstantiated & misleading WhatsApp forwards and social media posts. When in doubt, visit various news media & fact checking websites online.
Our readers can also conduct self-fact check by visiting these various links below: