The Statue of Unity is a statue of Indian statesman and founding father Sardar Vallabhbhai Patel (1875–1950) in the Narmada district of Gujarat, India. It is the world's tallest statue, with a height of 182 metres (597 ft) or about four times as tall as the Statue of Liberty (excluding the pedestal). The foundation was laid down in 2013; construction was completed in mid-October 2018; and the inaugural ceremony was held on 31 October 2018, presided over by Prime Minister Narendra Modi. (Courtesy: Wikipedia)
Recently on social media prior to it's opening, a photoshoped image of the Statue of Unity was being shared by multiple people on Twitter.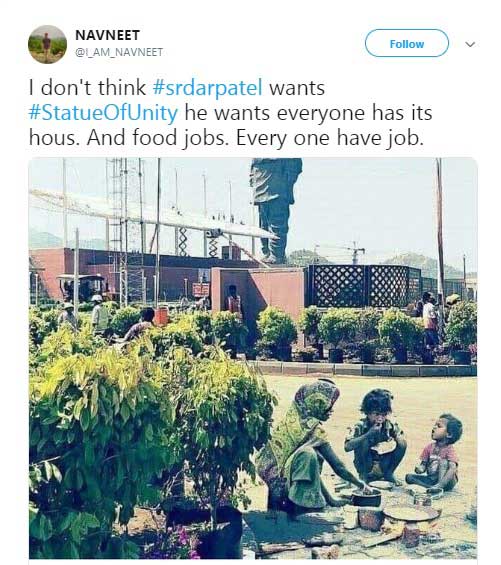 NARRATIVE ON SOCIAL MEDIA

People shared this picture to invoke a feeling of economic disparity and highlight hypocrisy in developing & installing Statue of Unity with more than ₹29 billion budget, while many citizens of India are poor and undernourished. There were others also who highlighted that the image was photoshoped and was being shared to criticize PM Modi and BJP (Bharatiya Janata Party) governance.
Few examples are given below:
I don't think #srdarpatel wants #StatueOfUnity he wants everyone has its hous. And food jobs. Every one have job. pic.twitter.com/LotVHNsy8i

— NAVNEET (@I_AM_NAVNEET) October 31, 2018
सरदार पटेल की मूर्ति बहाना है आदिवासीकिसानो से पुरखो की जमीन हडप इन व्यपारी,दलालो को करनी है
यह सरकार कुछ भी करके देश से किसानो को खत्म करना चाहती है ताकि चंद व्यपारी घराने इश देश पर राज करे। #StatueofDisplacement #StatueofUnity @DigitalTribal @hindustani011@HemantSorenJMM pic.twitter.com/fKvU2yHWPv

— Pooja Kumari (@Pooja_Mantwal) October 29, 2018
Speechless after seeing this Image….

— Kunal Sehgal ?? (@iambeingkunal) October 29, 2018
Speechless after seeing this Image….

— Kunal Sehgal ?? (@iambeingkunal) October 29, 2018
To attack Modi, Congress is using pictures of miserable life of poor from 2013 Congress rule ? pic.twitter.com/khbDXuMW4x

— Ankur Singh (@iAnkurSingh) October 29, 2018
सरदार पटेल जिंदा होते तो आज शर्मिंदा होते कि किसानों की जमीन छीनकर मोदी उनकी मूर्ति बना रहे हैं।#StatueOfUnity #StatueOfDisplacement @dilipmandal @HardikPatel_ https://t.co/r1KJ6SzgA6

— Shilpa Bodkhe INC (@BodkheShilpa) October 29, 2018
Tribals and Farmers will protest on 31st October against "Statue of Unity" which displaced them.#StatueofUnity #StatueofDisplacement #SardarVallabhbhaiPatel @dilipmandal #ChhotubhaiVasava @medhanarmadahttps://t.co/IcQHbh4cb6

— Digital Tribal (@DigitalTribal) October 31, 2018
OUR FACT CHECK
Fact Crescendo team did a fact check on this issue. We did Google Reverse Image search and also researched various twitter handles who were commenting on this claim.
We found the following:
TRUE
Photoshoped

image and misleading texts are being shared around on Twitter.
The image has been

photoshoped

and is

fake.

The picture of poor woman and kids eating has been picked from Reuters pictures database and photoshoped on the original statue picture. Our readers can easily see the same:
The original picture shot by Reuters photographer Amit Dave in Ahmedabad on February 26, 2010.
IN CONCLUSION
Fact Crescendo team tags this post as Photoshoped and Fake. These kinds of misleading posts or messages will be shared across by many people using WhatsApp and other social media applications again & again. But we as readers should be aware of the reality of these kinds of messages, as to what they really are – just a misleading narrative, a distortion of truth.
Fact Crescendo advises its readers to refrain from falling prey to unsubstantiated & misleading WhatsApp forwards and social media posts. When in doubt, visit various news media & fact checking websites online.
Our readers can also conduct self-fact check by visiting these various links below: