Recently on various WhatsApp groups, a fake text is being shared a lot. It is written to create urgency in people to click on the link shared and update their personal data.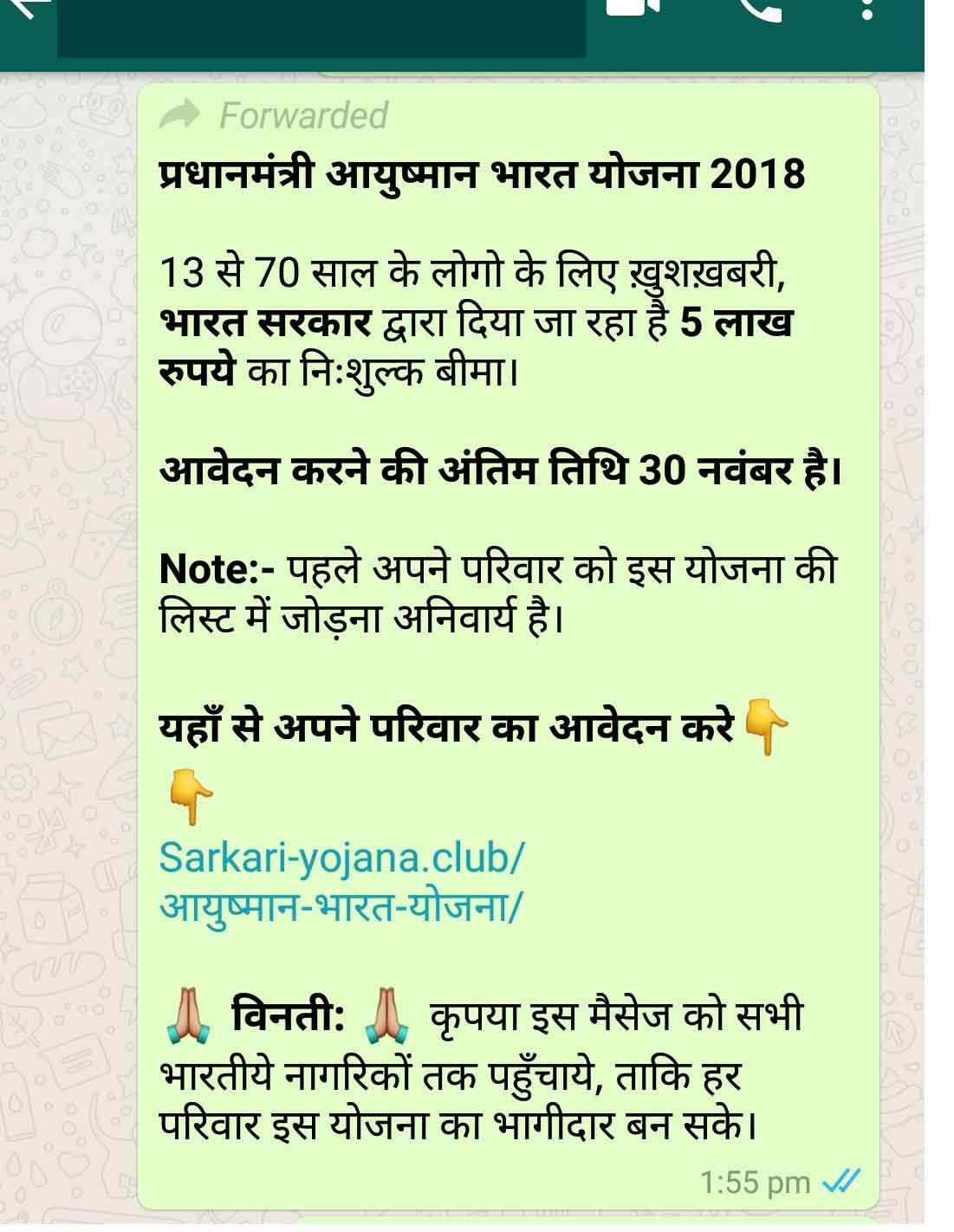 *प्रधानमंत्री आयुष्मान भारत योजना 2018*
13 से 70 साल के लोगो के लिए ख़ुशख़बरी, *भारत सरकार* द्वारा दिया जा रहा है *5 लाख रुपये* का निःशुल्क बीमा।
*आवेदन करने की अंतिम तिथि 30 नवंबर है।*
*Note:-* पहले अपने परिवार को इस योजना की लिस्ट में जोड़ना अनिवार्य है।
*यहाँ से अपने परिवार का आवेदन करे*
Sarkari-yojana.club/आयुष्मान-भारत-योजना/
? *विनती:* ? कृपया इस मैसेज को सभी भारतीये नागरिकों तक पहुँचाये, ताकि हर परिवार इस योजना का भागीदार बन सके।
WhatsApp Message Translated Text:
"* Prime Minister Ayushman Bharat Scheme 2018 *
Happy News for the 13 to 70 year old people, * Free insurance of Rs. 5 lakhs * is being given by * Govt. Of India *
* The last date to apply is November 30. *
* Note: – * It is mandatory to first add your family to the list of this scheme.
* Apply for your family from here *
Sarkari-yojana.club/ Ayushman-bharat-yojna /
* Request: *  Please send this message to all the citizens, so that every family can become part of this scheme."
NARRATIVE ON SOCIAL MEDIA
These types of hoax messages are being shared by mischievous people to gather data of people in guise of availing various Governmental Schemes. This kind of message has been shared in WhatsApp groups in many Northern India states for more than one government scheme.
Fraudulent registration form available on http://sarkari-yojana.club/आयुष्मान-भारत-योजना/

Our readers can view the archived version here.
Other Fraudulent registration form which is available on http://sarkari-yojana.club/आवास-योजना/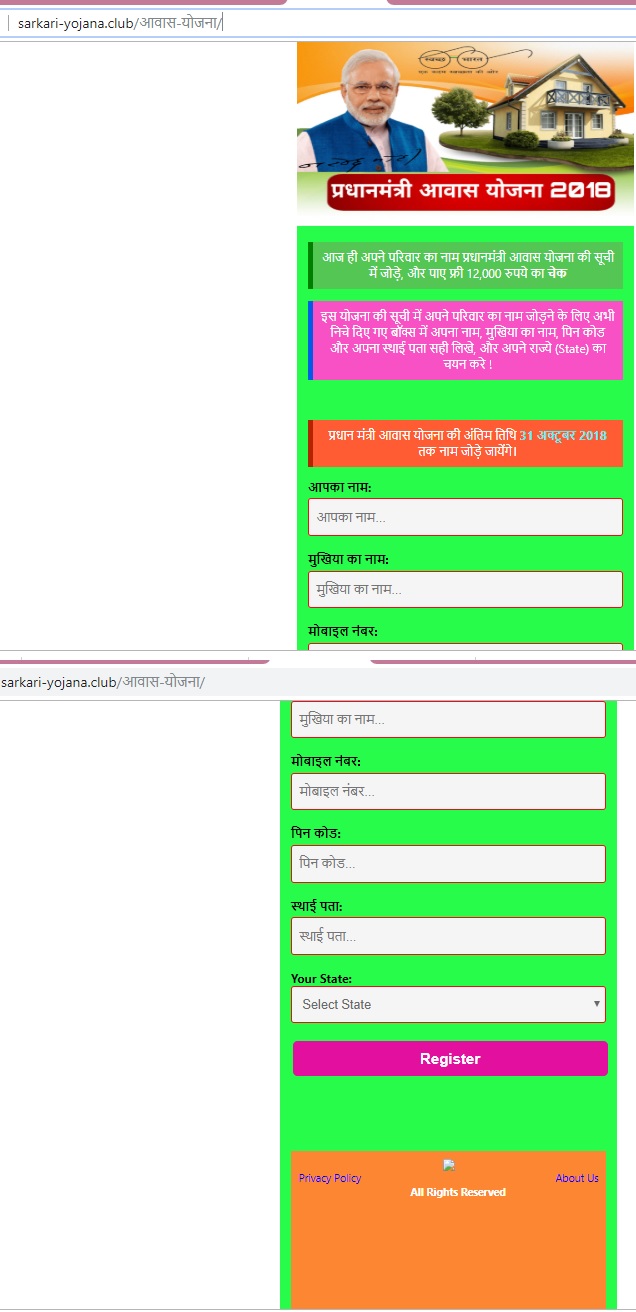 OUR FACT CHECK
Fact Crescendo team did a fact check on this issue. We did Google Reverse Image search & Google search of the message text and we found the following:
This fake message is being shared around on WhatsApp groups and online from sometime.
Most of the people who share or view these messages and visit the fraudulent website are confused as to what is real and what is fake.
To help them we have given few pointers below:
The official website for Ayushman Bharat Yojana is this:  https://www.abnhpm.gov.in/
You can also know more about this scheme here.
Additional Official portals for Ayushman Bharat Yojana are the following:
Avoid this website: http://sarkari-yojana.club, as it's fraudulent and has no connection with actual governmental schemes.
Our readers can view the domain 'Who Is' details for the fraudulent website: www.sarkari-yojana.club here & here

This website is 93 days old, and was Created on 2018-08-27, Expires on 2019-08-27 and was last Updated on 2018-10-20.

Our readers can read these resources to know more about Ayushman Bharat Yojana :
IN CONCLUSION
Fact Crescendo team tags these kind of messages as Fake and Misleading. These kinds of hoax posts or messages will be shared across by many people using WhatsApp and other social media applications again & again. But we as readers should be aware of the reality of these kinds of messages, as to what they really are – just Fake.
Fact Crescendo advises its readers to refrain from falling prey to unsubstantiated & misleading WhatsApp forwards and social media posts. When in doubt, visit various news media & fact checking websites online.
Dear Readers,
Do you feel that a certain story is fake? Do you know some additional factual details about a claim being shared on social media?
Then you can submit that claim or news here, for our team to verify and fact check for you.
Thanks,
-Fact Crescendo Team-